Buy Bitcoin in Australia
With the inflation rate and housing bubble on the rise in Australia, people across the country have been holding their Australian dollars in bitcoin, just in case the financial crisis is imminent. Storing value in BTC rather than AUD is getting more difficult now that the good people at AUSTRAC are regulating cryptocurrency providers. Those looking to purchase and hodl bitcoin privately and discretely, still have many options available to them.
Best Bitcoin Exchanges in Australia
Much like Vietnam and Hong Kong, the regulators are always requiring identification and wait times for most of the largest and most trusted bitcoin exchanges globally. The benefit of this is quick bitcoin and altcoin purchases consistently using AUD from your bank account.
The downside for those already upset at Australian banks, after their scandals and data breaches, is that privacy isn't valued by banks and regulators as much as it should be.
Fear not, the anonymous exchanges and options to buy bitcoin are also available to Australians, for those not looking for the best (strictly regulated) bitcoin exchanges in the country.
The best bitcoin exchanges available for Australians currently:
Australia Bitcoin Exchanges
Type
KYC
Currencies
Bitit
Exchange / Trading Platform
Yes
AUD, EUR, NZD, GBP, USD, BTC, ETH, LTC

Continue





Review

Coinloft
Ecxchange / Trading Platform
Yes
AUD, Bpay, Flexipin, Poli

Continue





Review

Coinjar
Exchange / Trading Platform
Yes
AUD, GBP, EUR, Bpay, Blueshyft, BTC ETH, LTC

Continue





Review

Bitpanda
Exchange / Trading Platform
Yes
EUR, CHF, GBP and USD. BTC, ETH, LTC and Hundreds of Altcoins

Continue





Review

LocalBitcoins
Peer to Peer Bitcoin Buying and Selling
Yes
MXN, USD, EUR, 7-11. Oxxo deposits for BTC, LTC, ETH

Continue





Review

CEX.IO
Exchange / Trading Platform
Yes
USD, EUR, GBP, RUB, BTC, ETH, LTC + more

Continue





Review
Buying Bitcoin Anonymously in Australia
While difficult, it's certainly not impossible for those looking to buy and sell bitcoin without identification or long waits for verification. The decentralized exchange bisq and peer to peer exchange hodlhodl have been rather popular in Australia for awhile.
Best Anonymous Bitcoin Exchanges available to Australians:
Anonymous Aussie Exchanges
Type
KYC
Currencies
HodlHodl
Peer to Peer BTC Exchange / Trading Platform
No
EUR, USD

Continue





Review

Paxful
Anonymous Bitcoin Purchases
No
Western Union, MoneyGram, Visa Prepaid Cards, Amazon Gift Cards

Continue





Review

BISQ
Anonymous Person to Person Exchange / Trading Platform
No
AUD, CAD, EUR, GBP, INR, JPY, NZD, RUB, SEK, ZAR (More)

Continue





Review



Binance
Trading Platform
No

(under 2BTC)
BTC, ETH, LTC, Hundreds of Alt-coins

Continue





Review



CoinMama
Exchange
Under $150 No
Visa, MasterCard, AUD, CAD, EUR, GBP, INR, JPY, NZD, RUB, SEK, ZAR

Continue





Review

Whale Club
Trading Platform
No
BTC, ETH, LTC

Continue

Wall of Coins
No
USD, CAD, MXN

Continue
Bitcoin ATM's in Australia Kind of Suck
The Bitcoin ATMs available between Sydney, Melbourne, Brisbane, Perth and Adelaide are the least popular option.
Apparently, Bitcoin ATM customers in Australia have to stand in front of the machine for a picture while holding their ID. Then scan their photo ID close up before purchasing btc. We hope people don't use Bitcoin ATMs in Australia because they completely disregard people having ANY right to privacy for a simple purchase.
warned customers that 100 million people's personal information may have been lost in yet another bank hack. This comes after Equifax's 2017 data breach gave 147 million peoples credit information
How Private is Bitcoin? A lot more private than your banking information. Especially with banks giving Equifax customers data to leak and never really apologizing. There was no alternative for banking customers other than to accept the bank will give all their...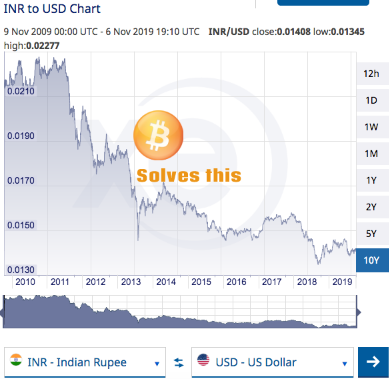 The RBI has recently frozen all the PMC Banks assets in India, making close to a million customers unable to access their money. The Reserve Bank of India has also had to overhaul the reporting system banks in India use, while customers protest and "hope" to have...